Elementor Vs. Divi Builder: The landscape of web development has seen drastic changes. The introduction of the WordPress plugin has given power and control to non-tech-savvy users to build web pages for their websites without learning to code.
The page builders have cut down time and made the task of designing pages without any programming skills possible. The easy drag-and-drop editor enables users to explore their creativity. The two popular contenders include feature-rich and user-friendly Elementor and Divi.
However, choosing between the two options can be difficult, given both are equally amazing at their job. Hence, we will eradicate that confusion by discussing some essential differences.
A Quick Overview of Elementor Vs. Divi Builder
Elegant Themes offers the Divi page builder that enables users to design pages for their website using straightforward drag-and-drop real-time content editing. The WordPress plugin is rich in templates that are available for free. Users can also use 46 pre-designed modules to incorporate elements like image sliders, shops, contact forms, and others into your website.
You can find Divi in two forms, back-end builder and front-end visual builder. The back-end builder acts on the back-end interface instead of the regular post editor. It works well for users who know coding to customize using the dashboard.
The front-end builders help non-technical users with convenient drag-and-drop capability. The changes made in the front-end builder are promptly visible on the screen to help users make quick and easy customizations.
Elementor page builder also offers visual editing with drag-and-drop options. It stands out because of its numerous features, user-friendliness, and responsiveness. From novice to professional, Elementor provides something for everyone. From several widgets to unique templates, users can seamlessly operate Elementor without any coding and technical issues.
The visual elements facilitate website-building and enable users to design stunning content and page layouts. You can let go of the boring block editor and choose the modern way to edit your posts.
Key Differences Between the Elementor and Divi Builder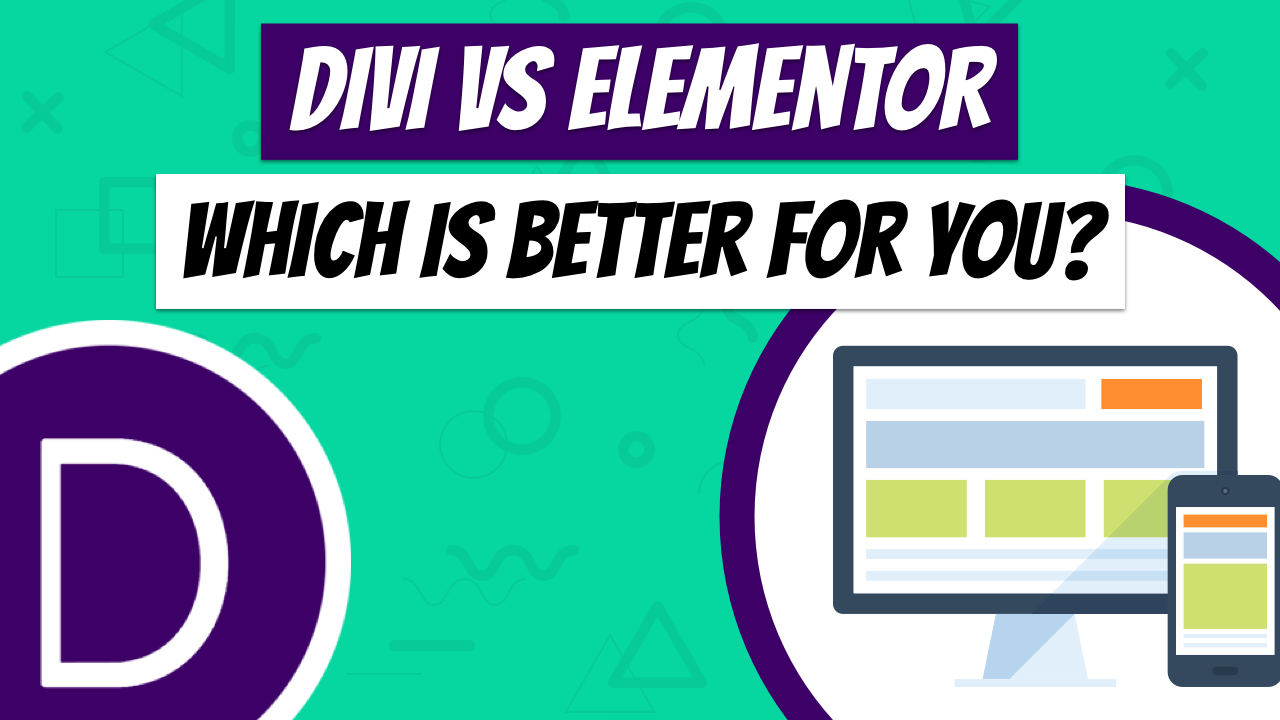 Elementor and Divi share a list of differences. Let us take a deeper plunge into some of these.
The feature to consider in any page builder is how user-friendly it is. A complicated environment cannot be work-friendly. Complex elements can create immense confusion and slow down the page-building process instead of making things easier for the user.
Divi and Elementor pay attention to this feature and offer user-friendliness to new users. Divi's fantastic drag-and-drop visual editing is a favorite of everyone. However, the recent dive towards fancy looks demands unraveling several things for smoother handling with several features.
Elementor's user-friendly drag-and-drop editing makes it ideal for newbies. The marvelous features do not compromise the ease of use and keep things simple. It offers keyboard shortcuts and simple operations for amateurs.
So many things overlap concerning the features of Divi and Elementor, including full support for theme-building, drag-and-drop visual interface, and dynamic data support. However, there are some unique features of both the builders.
Divi offers an integrated A/B testing feature that allows users to perform split tests and is essential for marketing. Divi also supports integrated conditional logic for the form widgets. The inbuilt role editor enables users to control accessibility to different features for various users. Users can find theme and plugin versions for Divi.
Elementor Pro features a Popup Builder to design numerous customized popups like modal, slide-in, notification bar, etc., to showcase as desirable. It also allows triggers and targeting rules for your popups. These are perfect for lead generation. Elementor also offers community support via official Facebook groups for users of free and premium versions.
Elementor page builder provides free and pro versions, while Divi only offers a premium option. Beginners can start their journey with the free version of Elementor and later pay for a Pro Plan. The Elementor Pro features annual pricing plans based on the number of websites, including $59 for one website, $99 for three websites, $199 for 25 websites, and $399 for 1000 websites.
Divi offers two pricing plans, $89 for annual access and $249 for lifetime support. Both allow unlimited websites.
In the aspects of performance, both page builders were previously lacking. However, they have now come around with multiple features and fixes for a better experience. Today, both tools allow for fast website building.
Nevertheless, the builders are heavier than the block editor and involve compromising for extra functionality. Based on the test, Divi Builder does surpass Elementor in performance. However, the difference is not too big.
Elementor features two template types, pages for full-page designs and blocks for individual page sections. The free version offers over 40 blocks and 30-page templates. You can also save and use self-made compositions. The premium version unlocks over 50 widgets and over 300 Elementor templates.
Divi offers over 2000 pre-built layout packs and 200 website packs. A layout pack comprises a themed template collection for a specific niche, sector, or design.
The modules and sections will help you bring your designs to life. Elementor features three elements, sections, columns, and widgets. The columns and widgets are present within the sections. The resizable columns split the page vertically, and the widgets include your text, images, buttons, etc. Elementor offers over 40 widgets and over 50 Pro widgets.
Divi also features three similar building blocks, sections, rows, and modules. Sections form the bigger containers which fit the rows. The rows offer column layouts and divide the page vertically. These are not resizable, but you can give them custom widths. Modules form the design elements. You can perform split tests on all the page elements. Divi is not free and features a single 36-module set.
Knowledge Resource and Learning Curve
Elementor and Divi try to help you use the tool quickly and efficiently. They both offer texts and videos to help you learn the product better. Elementor offers detailed documentation, Elementor Academy, blog content, premium 24/7 support, and community support. You can also use third-party resources.
Divi, too, offers documentation, a blog, premium support, YouTube Channel, third-party coverage, and community support. However, Elementor has a better edge with a beginner-friendly interface. Nevertheless, it mostly depends on preferences.
Conclusion
Elementor and Divi make great choices for page builders. While Elementor WordPress Themes has a lot to offer, it lacks in some areas, and the same is true for Divi Builder. Both provide adequate user-friendliness and a unique set of features. While Elementor works best for amateurs, there is not much performance difference from Divi.
They both offer several templates and widgets. While Divi offers more templates, Elementor features additional premium widgets to create myriad pages. They supply equal knowledge resources, while the learning curve depends on the preferences.
The pricing plans differ as Elementor offers free and pro choices while Divi only provides a paid version. Ultimately, the final judgment is in the user's hands regarding their preference, budget, and requirements.