Elementor Vs. Beaver Builder: Hiring web designers can be a challenging task and may require heavy budgeting. Users of all kinds can, therefore, rely on user-friendly WordPress page builders to design websites without difficulty or need for learning to code. Nevertheless, finding the right builder is like looking for a needle in a haystack.
Among the many options, Elementor Vs. Beaver Builders are the most popular. When concerning the customization option, their visual editor is on an almost equal level. Nonetheless, based on your website creation requirements, a page builder can be a better match than the other.
Through this article, we will draw comparisons between Elementor Vs. Beaver Builder to help you make informed decisions.
What Are the Things that Make a Page Builder Good? Elementor Vs. Beaver Builder:
Choosing the right WordPress page builder is vital to building a website successfully. So, before you begin to compare Elementor Vs. Beaver Builder, there are a few factors that you must consider. These factors indicate how good your page-building WordPress plugin is. Some of these are as follows:
An ideal WordPress page builder plugin is easy to use, effective, and quick. Hence, choose a solution featuring a user-friendly interface that enables users to navigate smoothly and create your site without difficulty.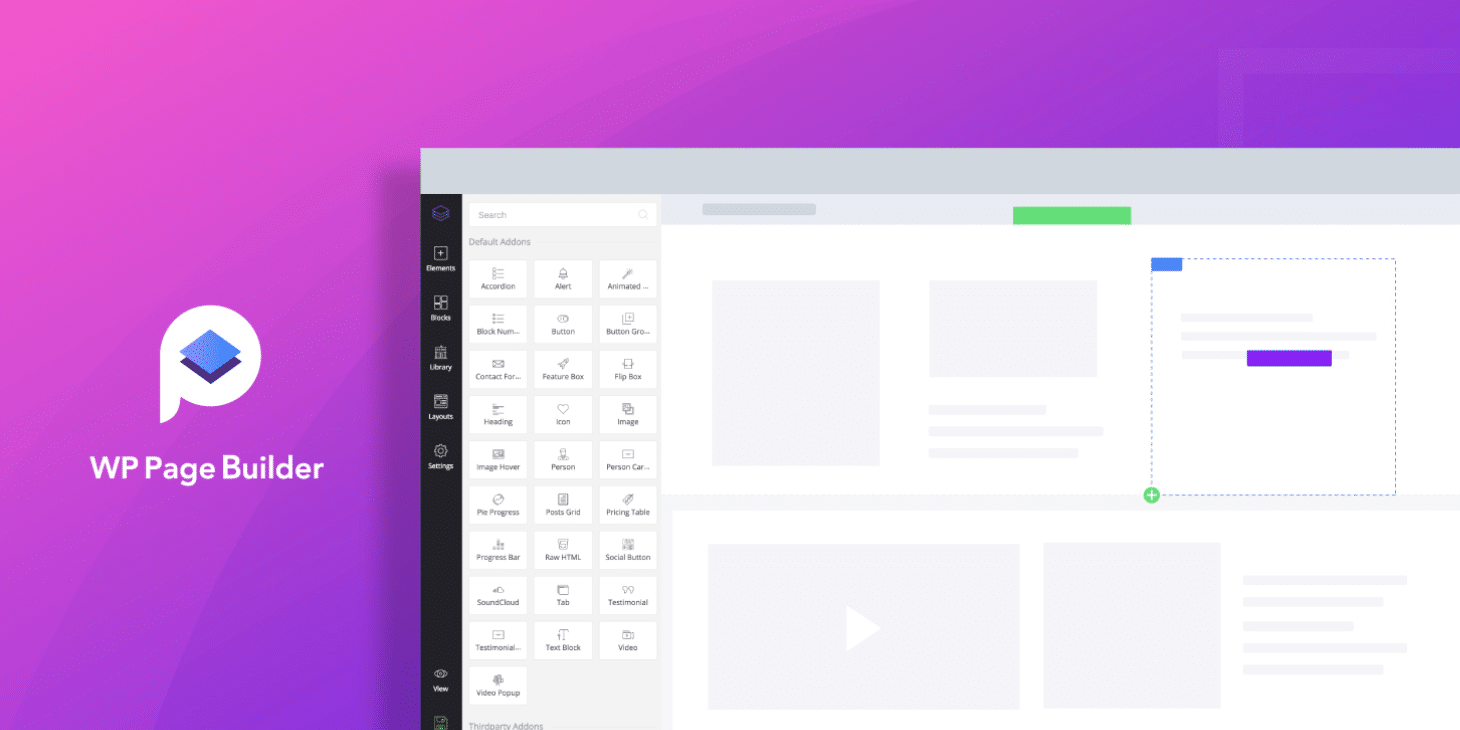 Numerous styling options with the website builder plugin enable you to create a unique and outstanding website that meets your specific requirements. Also, look for features like multiple layouts and widgets to construct an extraordinary website, including business or e-commerce websites.
The best website builder offers flexibility to users to build websites afresh or use block templates or pre-made themes. Since users visit websites using multiple devices or varying sizes, it is ideal to seek a page builder that enables users to create responsive websites.
Page builders are tools or plugins that allow you to create and design web pages on your website without needing to write code. They offer a visual interface where you can manipulate elements, arrange layouts, and customize the appearance of your website. Here are several reasons why using page builders can be advantageous:
Ease of Use: Page builders are designed with user-friendly interfaces that make it easy for individuals with limited technical knowledge to create complex and visually appealing web pages.
No Coding Required: With a page builder, you can build and customize your website without having to write or understand HTML, CSS, or other programming languages.
Speed and Efficiency: Page builders speed up the web development process. You can simply drag and drop elements onto your page, which significantly reduces the time it takes to design and launch your website.
Customization: Page builders provide a wide range of design options, including layouts, fonts, colors, images, and more. This allows you to create a website that aligns with your brand identity and vision.
Pre-designed Templates: Many page builders offer pre-designed templates for various types of websites, which you can customize to suit your needs. This can save you a lot of design time.
Responsive Design: Most modern page builders ensure that the websites you create are responsive, meaning they adapt and look great on various devices and screen sizes.
Real-time Editing: Page builders often offer real-time previews, allowing you to see how your changes will look before publishing them.
Layout Flexibility: You have the freedom to create complex page layouts that might be challenging to achieve through traditional coding, especially for those without coding expertise.
Plugin Integration: Many page builders integrate with other plugins, allowing you to add functionalities such as contact forms, e-commerce, social media feeds, and more.
Future Updates: Even if you decide to change themes, many page builders store the content separately from the theme. This means you won't lose your content when switching themes.
User Empowerment: Page builders empower website owners and small businesses to maintain and update their websites without needing to rely heavily on web developers.
Cost-Effectiveness: Using a page builder can save you money compared to hiring a developer for every design change you want to make on your website.
However, it's important to note that while page builders offer numerous benefits, they also have some limitations. Extremely unique designs might require custom coding. Additionally, some page builders can generate bloated code that affects website performance. It's crucial to choose a reputable page builder and follow best practices to ensure a balance between customization and site performance.
Always look for affordable options offering enough features, as many plugins offer free versions and premium plans. Do not forget to look for customer support when purchasing a page builder. So that whenever you run into issues amid web development, an efficient team is available to help you.
An Overview of Elementor
Garnering impressive popularity since its launch in 2016, Elementor is active on more than five million websites today. Hence, offering it the highest distinction and placing it among the best-known WordPress plugins.
Although you can use the Elementor core plugin for free, the Pro version is a premium extension offering a feast of new features. Its advanced features and innumerable design options make it a favorite of many users.
Since their team constantly updates with new features, users can access multiple new functionalities for their website. Web designers especially love the innovative design options featured in Elementor Pro. These include unparalleled positioning options and captivating visual effects to build a charming website.
Check out some Popular Elementor Themes By Mizan Themes:
Best Elementor WordPress Themes
Discover the Top Elementor WordPress Themes for Stunning Websites. Elevate your web design with our curated selection of versatile and visually captivating themes, optimized for seamless integration with the Elementor page builder. Create your dream website effortlessly with these powerful and customizable options. While talking about Elementor Vs. Beaver Builder here is some element of themes.
A Brief Introduction of Beaver Builder
Launched two years earlier in 2014, Beaver Builder may not have received the same level of popularity as Elementor, but it is still a popular choice among its considerable fans. Additionally, Beaver Builder is quite different compared to Elementor.
Instead of adding extra features like the Elementor Pro, Beaver Builder aims to deliver an exceptional experience for page building. Hence, users may not get as many design options and features, but they can enjoy a lightweight and steady page builder.
It is also why many WordPress developers appreciate this plugin, as they value a light and stable approach. Now let us discuss the crucial differences between Elementor Vs. Beaver Builder.
Top Beaver WordPress Themes
Astra: Astra is a lightweight and customizable theme that works seamlessly with Beaver Builder. It offers a range of starter sites and customization options, making it a favorite for those seeking flexibility.
Beaver Builder Theme: Developed by the same team behind Beaver Builder, this theme is optimized for compatibility with the page builder. It's clean, fast, and user-friendly, providing a solid foundation for your website.
GeneratePress: GeneratePress is a responsive and performance-focused theme that pairs well with Beaver Builder. It's known for its speed and flexibility, allowing you to create a wide range of website styles.
OceanWP: OceanWP is a multipurpose theme that integrates nicely with Beaver Builder. It offers a variety of demo sites and customization options, making it suitable for different types of projects.
Ultimate Addons for Beaver Builder: While not a theme itself, Ultimate Addons is a plugin that extends Beaver Builder's capabilities with additional modules and templates. It's often used in conjunction with other themes.
Kadence Theme: The Kadence Theme is another popular choice for use with Beaver Builder. It's designed for performance and offers customization options to help you create unique designs.
Hello Theme: Similar to the Beaver Builder Theme, the Hello Theme is a lightweight and minimalistic option that's built to work seamlessly with Beaver Builder. It provides a blank canvas for your designs.
Page Builder Framework: This is a fast and lightweight theme designed to complement page builders like Beaver Builder. It's well-suited for creating modern and responsive websites.
Hestia Pro: Hestia Pro is a multipurpose theme with a modern design that pairs well with Beaver Builder. It offers a range of customization options and is suitable for various industries.
Authority Pro: Built on the Genesis Framework, Authority Pro offers a sophisticated look and integrates smoothly with Beaver Builder. It's great for bloggers, entrepreneurs, and businesses.
Remember that the effectiveness of a theme depends on your specific project requirements and design preferences. Before choosing a Beaver Builder theme, consider factors such as responsiveness, performance, customization options, and compatibility with your desired plugins.
Key Differences Elementor Vs. Beaver Builder
This section will give you the necessary information to help you make better decisions. We will consider the interfaces, modules, templates, performance, and more.
1. Interface
An interface lacking intuitiveness and speed can affect your productivity. Hence, each of these options offers an unfailing and flawless interface. Therefore, it depends on your personal preference.
For Elementor, your screen gets divided into two sections. One shows the live preview of the changes you make to the design, and the other is a sidebar that gives access to all the page elements. You can drag and drop the elements or select them to make modifications.
Beaver Builder offers a full-width design preview with the option to hide the control areas and enable a popup when needed to edit. Hence, the live preview will take up the entire screen. Additionally, you may incorporate rows or modules by selecting the (+) icon to access the menu.
2.     Modules and Sections | Elementor Vs. Beaver Builder
Elementor features three elements, sections, columns, and widgets. At the top-level element hierarchy are sections which are groups of widgets and columns. At the second level are columns that fit inside the sections to split your design. The widgets are third and compose your site's content, including images, text, tables, etc. Its free version features 28, while the premium offers 50 widgets.
Beaver Builder also features similar elements with different names, rows, columns, and modules. Rows are like sections and apply a unified background and spacing to the content. The columns are present inside the rows and split the page vertically. Modules comprise the website content. The free version features six modules, while the premium features 50 modules. You can extend the modules or widgets for both with addon plugins.
3. Styling Options
Elementor offers extensive control and features configurable global styles. It also enables users to employ their theme's styling. Three tabs are available to alter the function and appearance of all the widgets, columns, and sections. It included content (size and alignment), style (typography, colors, and others), and advanced (responsive controls, animation, Z-index, custom padding, etc.).
Like Elementor, Beaver Builder offers global styles and allows you to use customizer controls for your theme. You will get options to make necessary changes based on the selected module. These options include style (content width, alignment, colors, height, etc.), typography (font, size, and color), and advanced (custom margins, CSS, responsive controls, animations, etc.).
4. Templates
Elementor distinguishes templates into pages and blocks. While pages are comprehensive page designs with complete functionality, blocks are only for dedicated page sections. The free version offers more than 40 pages and numerous blocks. With Pro, you can access more than 200 templates.
Beaver Builder's free version does not feature pre-built templates. However, the paid option offers multiple page templates in two forms, landing and content pages. For the blocks-like option, you can opt for third-party plugins with similar functionality.
5.     Pricing Plans – Elementor Vs. Beaver Builder
Elementor Vs. Beaver Builder features downloadable free versions for you to test. However, you will get a more pleasing widget library with Elementor. For premium versions, Elementor Pro offers three annual plans, Personal at $49 for one site, Plus at $99 for three websites, and Expert at $199 for a thousand sites.
Beaver Builders also offers three annual plans, Standard at $99, Pro at $199, and Agency at $399. While each pricing plan offers unlimited sites, it restricts the features you get.
6. Theme Builder
Theme building is a powerful functionality that enables users to design a comprehensive WordPress site. While Elementor's regular Pro addon offers this option, you must buy the Beaver Themer extension separately.
The My Templates section in Elementor enables you to build and control the theme. When creating a new template, you can select the theme's part you wish to replace. Next, you can pick from the pre-built blocks or start from scratch. While the interface remains the same, you can use new Theme Elements. These elements depend on your content type.
The Beaver Themer extension allows users to build and manage different theme parts by using the Themer Layouts. After creating a Themer layout, you can name it and select a part of your theme you would like to replace.
You can build pages, single posts, headers, footers, etc. You can use Location and Users to control where you want to showcase your design. By clicking Launch Beaver Builder, you can start with the actual design. You can dynamically add content to your site with the Themer Modules group.
7. Features
Ideally, the best page builders are flexible and packed with features, allowing you to design every component you your site. The developer-friendly Beaver Builder features clean code with customizable JavaScript, CSS, PHP, and HTML. Additionally, it is ideal for SEO and shows compatibility with maximum plugins and themes. It also offers faster loading times than Elementor and helps boost conversion rates.
On the other hand, Elementor features a broad template library exceeding 300 pre-built templates. It provides several options for new users. However, Elementor falls behind in speed. Apart from lacking a moveable sidebar and fast page speed, Elementor is SEO-optimized, mobile-friendly, and offers developer features like Beaver Builder. When talking about features Elementor Vs. Beaver Builders both have their own benefits.
8. Performance
When putting together every performance KPI, there are a few key takeaways to learn. Elementor's total loading speed is faster compared to Beaver Builder. However, this difference is not too massive or significant. Elementor performance for core web vital is far better than its competitor. The LCP (Largest Contentful Paint) score for the latter is less than for Beaver Builder, while CLS (Content Layout Shift) is ideal for both.
The FCP (First Contentful Paint) score for Beaver Builder is much better compared to that of Elementor. Additionally, while the page sizes are nearly equal for both, the HTTP requests exceed Elementor than Beaver Builder. So We can conclude when performance is taken Elementor Vs. Beaver Builder Elementor has the upper hand.
Conclusion – Elementor Vs. Beaver Builder
When selecting between Elementor Vs. Beaver Builder, it is essential to consider fundamental aspects like interface, modules and sections, styling options, pricing plans, templates, theme builder, features, and performance.
For a beginner and user-friendly option, Elementor features an intuitive interface with numerous templates and widgets with an integrated theme builder. Conversely, Beaver Builder is ideal for developers. It also enables users to create unlimited websites with every plan. However, these plans are more costly than Elementor. All this considered, both tools are excellent options for page building that you can choose based on your project requirements, budget, and preferences.