Elementor Pro Vs. Free: Elementor offers you two versions for developing your website, Pro and free. One is a paid version, while the other is available to users free of charge. When deciding between the two, it is easy to get confused and wonder if investing in the premium option will be worth it.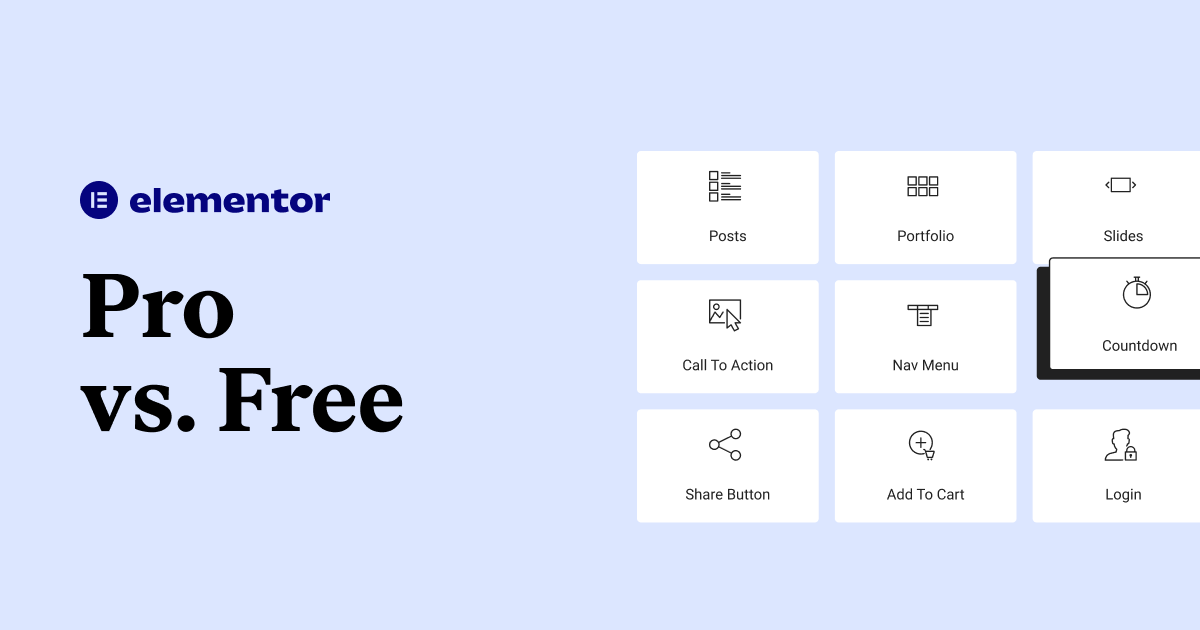 The two solutions are full of tools. However, acknowledging your project requirements is crucial to ensure you are not wasting money. Therefore, this article will offer proper guidance and cover every aspect of Elementor's free and Pro version. We will compare the features, interface, widgets, templates, and more to help you make informed decisions.
Advantages of Using Elementor in 2023
Now, before we deep dive into the details about the Elementor Free and Pro, let us discuss why you must use the page builder in the first place. First and foremost, as a paradise for beginners, Elementor offers complete control over your website content. Hence, if you have Elementor, you will not need a professional developer.
The user-friendly Elementor is excellent, especially for those without experience with page builders. You can use the integrated tutorial section to learn about every feature and its usage effortlessly. The easily operative and intuitive interface comes combined with well-organized widgets. Users can easily access multiple tools and settings.
You may expand the editing functionality with Elementor. Elementor is compatible with Block editor and allows for easy optimization and customization of block-based themes. It also works flawlessly with SEO plugins like Rank Math and Yoast SEO. Hence, users can ensure their designed pages rank better on search engines.
Elementor lets you experience changes live. Hence, you can check how changes will look on your site while you make them. This ability makes website creation far more straightforward and fun. There is a lot you can do regarding designing pages and content. You can design sales pages, landing pages, and more. Elementor also features a template library to create and personalize your content.
A Detailed Comparison Between Elementor Pro Vs. Free
Elementor is well-known among users for its capabilities and features. Hence, why many employ the page builder to produce professional-looking WordPress themes without knowing and writing codes. This section will cover all the differences between Elementor Pro and Free.
Features
Elementor Free
Although a free version, it offers extensive capabilities and enables users to create a completely operational website. The Elementor Lite version offers live editing with a drag-and-drop page builder. The basic templates, several Elementor widgets, and a canvas layout make it a good solution for creating a stunning website.
Users can also import and export templates in Elementor Free version. The easy-to-use page builder also offers flexibility to incorporate CSS and HTML code. It also features mobile editing.
2. Elementor Pro
In addition to the features of the free version, the Pro version comes packed with global settings for ease of styling your website. You get pro widgets with professional templates to design a competent website. Elementor Pro also features e-commerce tools and supports dynamic content. It also offers form builder and integration tools for added functionality.
Elementor Pro offers users round-the-clock customer service to clear their queries and issues. You can also enjoy automated updates with the Pro version.
Interface and Templates
The Elementor free version offers an intuitive, easy-to-use drag-and-drop style user interface for a seamless website building experience. In addition, it provides an excellent template library with pre-designed templates and blocks for you to design eye-catching web pages without any hassle. The design offers you more than 100 Elementor templates and blocks for free. You can add these to your web pages by choosing the best option from the collection.
The interface is similar to the unpaid version, while Pro offers extra features. In addition to the pre-built templates and content blocks you get with Elementor free version to create pages quickly, the Pro version features many more content blocks and templates designed by professionals. Therefore, Elementor Pro is ideal for those who depend on pre-built templates.
Elementor comprises over 2000 ready-to-use gorgeous templates to create various pages, niches, posts, and blocks. By upgrading to the Pro version, you can access all these templates.
Widgets
Elementor Free offers assorted widgets that users can drag and drop to create a desirable page design. You can find over 30 widgets with the page builder's free version that are enough for users to design a functional website. You can expect more widgets to be available with time.
The Pro version comes packed with global and advanced widgets. You can find over 60 widgets to use. These offer unlimited possibilities for the design that you can customize accordingly. A spectrum of elements offers more freedom regarding website design. With global widgets, you can set your widgets to Global, which applies the changes everywhere on your website.
Editing and Customization
Elementor's free version offers responsive editing capabilities. Users can shift to tablet or mobile view to edit the web page content. This feature enables you to create fully operational websites and web pages to ensure the best user experience regardless of the device used to access your site.
You can easily change the layout within the editor to make changes. In addition to responsive editing, you get mobile editing, customizable margins, inline text, and padding editing choices.
With the Pro version, you can customize every part of your website with the theme builder. It enables you to design a custom header, recreate the footer, make changes to the sidebar, and even design customized layout pages. Design agencies can make the most of Theme Builder. The efficient tool enables users to do a lot more in less time. Elementor Pro also features dynamic content editing.
Performance and Responsiveness
The free version offers smooth performance. It means you will not face difficulty with page speed. Moreover, this will help boost your overall website performance. Elementor Free is responsive and features mobile editing. It also enables responsive editing to create a fully responsive website.
Elementor Pro features over 60 widgets, more than 300 professional templates, and more amazing extensions. Despite all this, Pro loads your website smoothly. Like the lite version, Pro is completely responsive and allows mobile editing.
Conclusion
Your choice between Elementor Pro and the free version will significantly rely on your needs and usage. The free option is for beginners to create a simple and beautiful website using its basic templates, blocks, and widgets. From live and responsive editing to advanced widget and block settings, there is a lot you can do.
Conversely, Pro is perfect for experienced users and professional designers looking forward to creating a stunning website. This version also suits those wishing to build e-commerce to raise revenue and sales. Premium also offers support from experts.
So, with the aid of this guide, you can come to the final decision of which page builder version will be best for your website.